Buying Success: Prosper From Supplier Relationship Management (SRM)
Become your suppliers preferred customer
Successful SRM requires alignment, formalisation, clarity, communication, trust, negotiation and the adoption of suitable technology.


You'll know you're succeeding with SRM when your company becomes its key suppliers' customer of choice.
Seven steps to successful SRM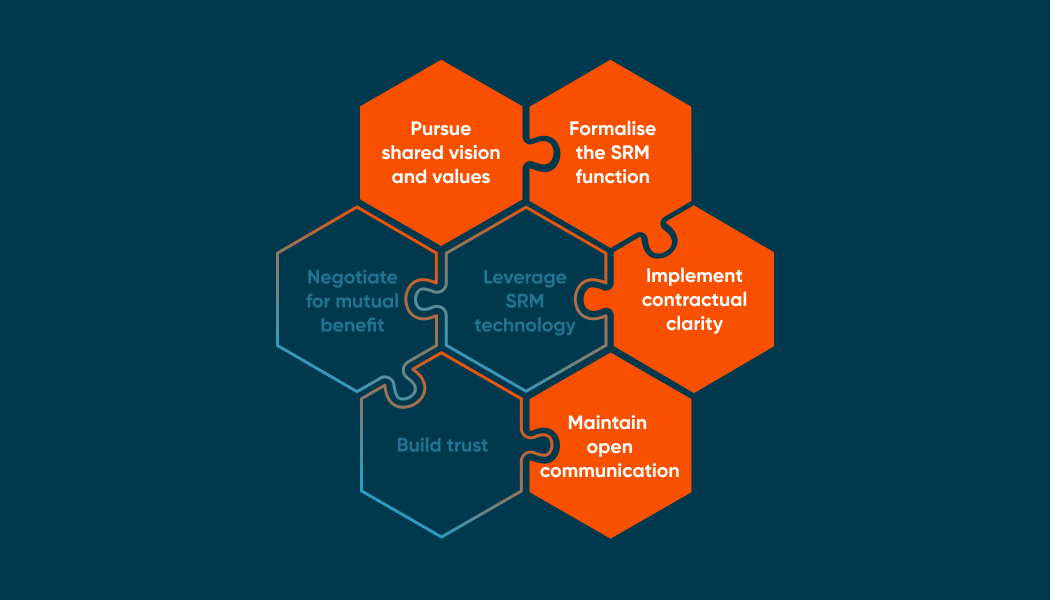 1. Pursue shared vision and values

As well as assessing potential suppliers in terms of quality, pricing and risk, the buyer should consider whether their vision and values align with its own. For example, if your company prioritises sustainability, you should seek suppliers for whom it's equally important.
Potential suppliers should have a business culture that will align with the principles of SRM i.e., transparency, communication, collaboration and innovation.
If you're assessing suppliers in countries outside of MENA, you may also want to find out a bit about their culture and how it might inform the way they do business.
Choosing suppliers with similar views and values lays the foundations for successful SRM.
2. Formalise the SRM function

If a company encourages its procurement team to adopt the SRM approach as a general practice, initiative may soon fall through the cracks, as team members become absorbed in the everyday requirements of their roles and leave accountability for supplier relationships to others.
For this reason, it's worthwhile to appoint a specific team member to focus on championing the five key tasks required for successful SRM:
Segmenting the supply base;

Measuring and improving supplier performance;

Becoming a better customer;

Meeting/collaborating with suppliers, and

Improving supplier quality.
A company's supplier relationship manager will be constantly assessing outside supplier dynamics as well as internal business imperatives and should build support for SRM across all departments.
3. Implement contractual clarity

In Industry Week, Dave Blanchard wrote, "Incorporate appropriate service levels and metrics into agreements. A relationship based on a handshake is far more likely to encounter problems than one in which expectations are clearly established and agreed upon."

A key part of SRM is ensuring contractual clarity between buyer and supplier.
If there are grey areas in terms of deliverables and KPIs, misunderstandings might occur, and the relationship could deteriorate.
The supplier's contractual obligations should align with the buyer's business objectives, while also being realistic enough for the supplier to meet.

Most large organisations, like PwC, have standard procurement policies in place, which help new suppliers to meet compliance requirements when they onboard, and to understand what to expect once their services are taken up. If yours is a small- to mid-size company with no standard supplier policies in place, you can download and use supplier contract templates.

A buyer and supplier should always go through a new contract together to ensure mutual understanding, agreement and commitment - and the contract should be revisited at regular intervals, to address any issues that arise.
4. Maintain open communication

Clear communication is the key to any successful business relationship, especially that between a buyer and a supplier. Miscommunication can lead to
Cost overruns,

Late or incomplete deliveries and, at the other end of the supply chain,

Dissatisfied customers.





Clear communication begins with agreement on the supplier contract but should be maintained via regular check-ins throughout the contractual period.



This is where having someone in a dedicated SRM role, who can prioritise and facilitate regular meetings with suppliers, is useful.

Where a buyer has multiple suppliers, Gartner advises segmenting them into different categories, "based on their criticality to the business. This will help determine the message and communication channels to use."
Segmentation helps a buyer to identify the key issues to communicate on with specific suppliers and to prioritise which suppliers need to be communicated with at the highest level, due to their business-critical status.
5. Build trust

No one gets everything right all of the time but, when there is a high degree of trust between buyer and supplier, potential setbacks can be openly discussed before they affect important business outcomes.
The buyer should institute a continual feedback loop with its suppliers to show that it supports them as much as it expects them to deliver.

The buyer should always be quick to respond to its suppliers' queries and should promptly share with them any business developments that may impact on them directly.
Suppliers are usually only communicated with when problems arise, but trust grows when both parties have a vested interest in each other's success. A good way to enhance trust is to share business wins with suppliers, like sales revenue growth or positive customer feedback on products.
The biggest key to building trust is transparency.
A final tip: pay on time.
It may sound simple, but always paying on time is a demonstration of respect, and sits at the heart of a healthy buyer-supplier dynamic. It creates goodwill and can motivate suppliers to perform at their best.
6. Negotiate for mutual benefit

When there is a high degree of trust between buyer and supplier, both parties will feel more open to requesting some flexibility from each other.
For example, the supplier may require a payment in advance in order to overcome a cash flow issue on its side, or the buyer may have a sudden request for extra supplies at short notice.
In the SRM approach, price reductions are achieved through negotiation, rather than through adversarial tactics.
A supplier might concede to lower the price on individual products or fix the future price on products, in exchange for an extension to their supplier agreement or the buyer's offer to increase the minimum size of orders.
Through continual negotiation, buyer and seller can contribute to each other's long-term success.
7. Leverage SRM technology

Bringing the right technology on board helps procurement managers and teams to maintain shared real-time information with their suppliers, giving all stakeholders a single version of the truth.
This data helps to build trust, reduce misunderstandings and increase collaboration, while enhancing efficiency and reducing manual tasks across the procurement function.

Due to the expansion of cloud SaaS - generally more affordable than for-license, on-premise software; the move to largely online interactions during the COVID-19 pandemic, and the growing trend for dedicated SRM, the procurement software market is set to grow steadily, reaching USD $14.10 billion in value by 2030.
These are the top ten procurement software vendors, ranked by global market share. The leader is currently SAP - have a look at their Ariba solution. SourceForge compares a number of other procurement cloud software options here.
When COVID-19 forced many procurement teams to move their buying online, they started buying from sellers via online marketplaces, which foster trust by vetting both buyers and sellers, and come equipped with the digital tools buyers need to select and align with preferred suppliers, track their performance, negotiate on terms and make data-based decisions on suppliers and orders.
The secret to your success: becoming a customer of choice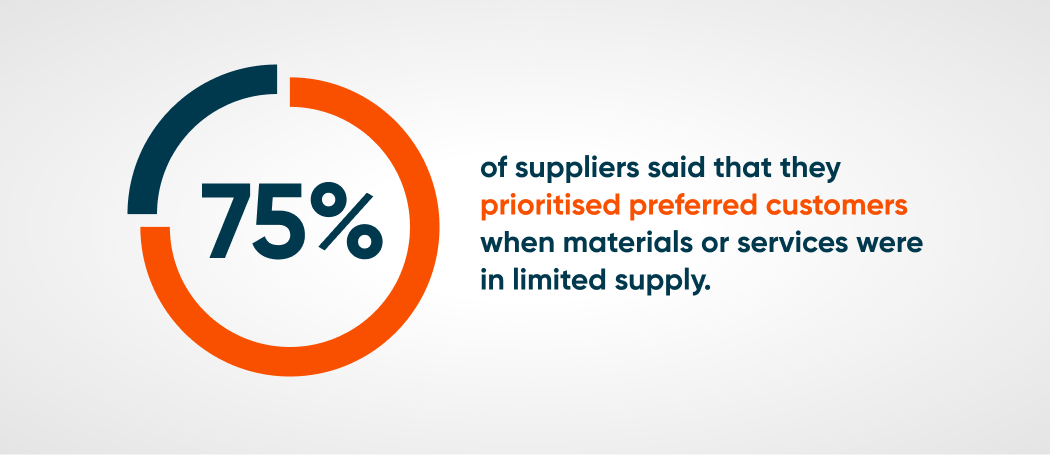 You will know that your hard work on SRM has paid off when a situation arises like the following: your company is one of several that all order the same component from a supplier - a component central to the kind of equipment you manufacture for your customers.
Without it, your delivery to customers will halt. When the supplier reports an unavoidable shortage of the component, it says it only has enough units of the component to adequately serve one customer, until the shortage is resolved. It decides that that company should be yours.

Being a customer of choice means being first in line for important supplies whenever a critical situation arises – and that can make the difference between sustaining your business or severely disrupting it.
In a survey of senior sales executives, 75% of suppliers said that they prioritised preferred customers when materials or services were in limited supply.
Prompted by FMCG company Mars' experience during a strike in France, consulting firm Gallup set out to quantity what constituted a company of choice. It compared supplier relationships with customer relationships and identified five key factors inherent to a strong buyer-seller relationship:
Clarity;

Simplicity;

Integrity;

Reciprocity, and

Connectivity - the latter meaning a supplier "couldn't imagine our business without (buyer)".
When your company has that kind of status in the eyes of suppliers, you can be sure they will have your back, as long as you have theirs.

The bottom line: the carrot is better than the stick

In the five years preceding the COVID-19 pandemic, U.K. retailer Tesco had worked on "completely resetting our relationships with our suppliers - a move which put it on a strong operational and financial footing to deal with the supply chain challenges of 2020 - 2021.
Perhaps it had come across Henke's study in the automotive sector - or absorbed the findings in 2009's Getting the Most out of SRM, Supply Chain Management Review, in which companies estimating the financial benefits of SRM had settled on an average of more than USD $100 million in incremental value.
Many organisations were not so fortunate during the pandemic, only realising the value of SRM once lockdowns began to stall multiple supply chains.
Now, as more companies embrace the business value of SRM, we hope that that the steps outlined here may help your company to do the same, strengthening your supply chain, unlocking new opportunities and enhancing your procurement function overall.
Learn more on how to: What Supplier Relationship Management Is & Why It's Important